Roundup Non-Hodgkin Lymphoma Lawsuit
Patterson Legal Group is currently accepting injury claims for review from individuals who believe they were diagnosed with non-Hodgkin lymphoma (NHL) after experiencing significant exposure to the weed killer Roundup.
Contact us now for a free evaluation of your claim.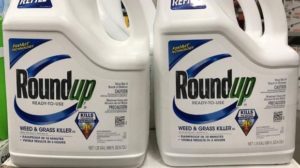 What Is Roundup?
Roundup is a glyphosate-based herbicide. In the early 1970s, Monsanto developed and patented glyphosate for use to kill weeds. A few short years later, Monsanto's released the weed killer into the U.S. market.
Glyphosate has since become the most recognized and widely used weed killer in the country by farmers, landscape professionals, and homeowners.
In 2018, Monsanto was acquired by Bayer AG, a German multinational life sciences and pharmaceutical company.
How Does Roundup Work?
Once Roundup is applied to the leaves of plants or grass strands, the sodium salt form of glyphosate found in the weed killer sinks into the plant stopping protein synthesis from occurring. This in turn prevents the plant from creating amino acids, which results in the plant dying.
What Makes Roundup Bad?
Scientific studies have found a link between the active ingredient glyphosate and an increased risk of developing non-Hodgkin lymphoma in those who have heavily used and who have had long term exposure to Roundup.
In fact, glyphosate has been deemed by medical agencies and government entities as either a probable or a definite known carcinogen.
2017: glyphosate was declared a known carcinogen by the State of California
2015: glyphosate was concluded to be a probable carcinogen by the International Agency for Research on Cancer
Over worries that the weed killer may cause cancer, the country of Austria completely banned the sale of glyphosate, what they call a controversial herbicide. Additionally, 20 municipalities in France have also banned the product. Germany has also pledged to ban the use of glyphosate weed killer by the end of 2023 for death of insects and suspected to cause cancer in humans.
Monsanto Roundup Lawsuits
Current U.S. lawsuits against Monsanto claim that the manufacturer never warned users of the herbicide to take safety precautions while using Roundup. Further, the manufacturers failure to warn users put them at an increased risk of developing non-Hodgkin lymphoma and other forms of cancers.
Current Monsanto Lawsuit Settlements include:
March 2019 – Pilliod v. Monsanto: Alva and Alberta Pilliod were initially award $2-billion for claims that they both developed non-Hodgkin's lymphoma after having used Roundup since 1970. In July 2019, the couple consented the lesser amount to $86.74-million instead of going through a retrial.
March 2019 – Hardeman v. Monsanto: Edward Hardeman was initially awarded $80-million for his claims that he developed non-Hodgkin lymphoma after having used Roundup extensively on his properties. Hardeman later consented to the reduced amount of $25-million in exchange for not going through a retrial.
August 2018 – Johnson v. Monsanto: Dewayne Johnson, a Benicia Unified School District Groundskeeper, was initially awarded $289-million for claims that he developed non-Hodgkin Lymphoma after coming into direct contact with Roundup and RangerPro (both glyphosate products manufactured by Monsanto) over the many years he looked after the school district's properties. The amount was later reduced to $78-million in lieu of going through a retrial.
What Compensation Can Be Recovered in a Roundup Lawsuit
Currently, over 1,500 individual Roundup lawsuits are pending in federal court by those who claim to have developed non-Hodgkin lymphoma after being exposed to the glyphosate-based herbicide. The amount of compensation awarded in each Roundup lawsuit will vary depending on individual circumstances and court rulings.
Ultimately, attorneys fighting for claimants who used Roundup long term and now suffer from NHL will seek the following damages:
Past and future medical expenses
Past and future pain and suffering
Wage loss/reduced earning capacity
Wrongful death (if a loved one passed away from NHL)
There Are No Costs to Hiring a Roundup Lymphoma Attorney
There are no out-of-pocket cost when you contact Patterson Legal Group to ask our law firm to provide legal representation in a Roundup non-Hodgkin lymphoma lawsuit. That is because our services are provided on a contingent fee basis, meaning that we only get paid if you win your case.
Now that you know that our personal injury services won't cost you a dime, we invite you to contact us 24/7 online for a free case evaluation, or by calling (888) 687-2400. Our team empathizes with those who have been blindsided by big manufacturers and we want to hear your story. So, don't delay! There are statutes of limitation for these types of dangerous product liability claims and we don't want you to miss an opportunity to seek justice.
Roundup cases will be referred to Lerner and Rowe.