Bath Safety Month: Six Valuable Tips to Avoid Bathing Accidents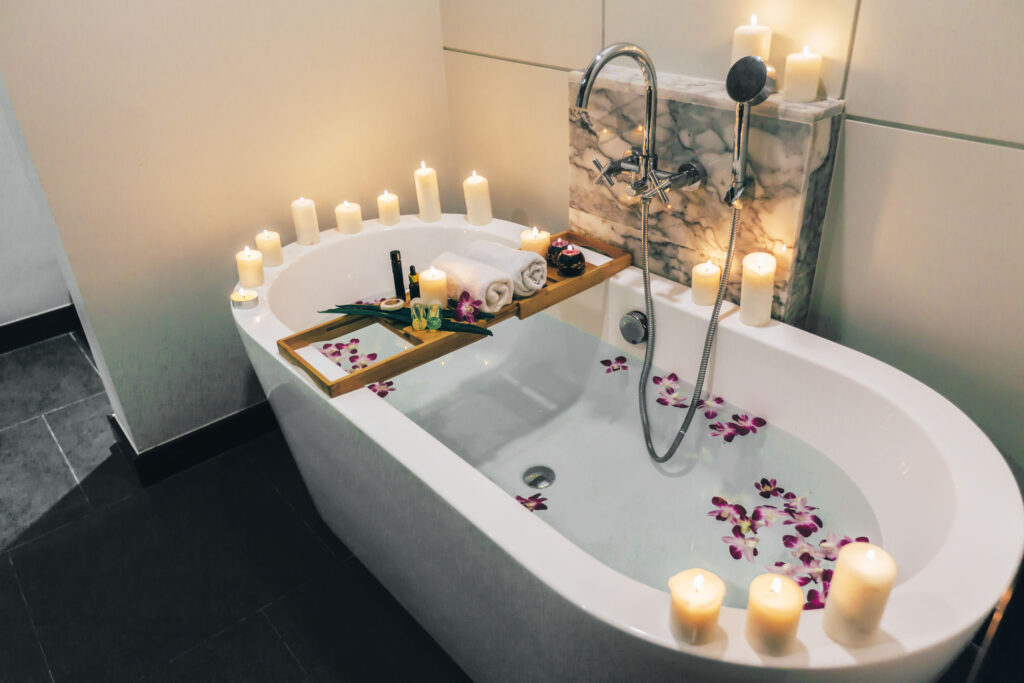 January is National Bath Safety Month. Many people are unaware that the bathroom is one of the most dangerous rooms in a home. With slippery surfaces, running water, electrical outlets, and more, it's no wonder that so many personal injuries happen in or near bath tubs.
To help you and your loved ones stay safe in the bathroom, Patterson Legal Group offers these six valuable tips for National Bath Safety Month.
Use Bath Mats and Slip-Resistant Tub Mats
Adding some friction is an easy and hugely effective way of increasing bath safety. Bathtubs and bathroom tiles are often made of slippery materials, which can lead to slip-and-fall accidents. Adding a bath mat or towel just outside of a shower or tub can absorb excess water and help you keep steady. If the surface of your shower or tub is particularly slick, consider adding an adhesive mat for more grip.
Always Check the Water Temperature
Controlling water temperature is an essential part of bath safety. Always start by running cold water, checking the temperature, and incrementally increasing the heat. Starting with hot water first can lead to a burn injury. Being mindful of water temperature is especially important for children and people with sensitive skin conditions.
Make Sure Bath Essentials Are in Reach
You should never have to reach far for soap, shampoo, conditioner, washcloths, or any other bath essentials. You're already in a wet and slippery environment; a strenuous reach could lead to a muscle pull or other soft tissue injury. In extreme cases, an errant reach could lead to a fall that results in broken bones. You can avoid these types of situations by making sure that everything you need for a bath is easily accessible.
Be Mindful of Electrical Appliances and Outlets
It should be common sense, but some people are unaware that electricity and water are a bad combination. While most modern homes have ground-fault circuit interrupter (GFCI) outlets in the bathroom to help prevent electrocution, some older homes may not be equipped with them. You can avoid an electrocution accident in the bath by making sure that water does not come into contact with electrical outlets and never using electrical appliances in the bathtub.
Be Careful of Sharp Edges
The area surrounding bathtubs and showers could have objects with sharp edges, such as faucet handles, shower doors, and towel racks. It's easy to forget about them while going into and exiting the bath. Going in, your priority is getting cleaning. Going out, your priority is getting dry.
Forgetting about sharp objects could lead to bruises, cuts, and scrapes. Be mindful of any edges in and around your bath when getting into and out of the shower. This tip is particularly important for people that wear contact lenses or eyeglasses.
Pay Extra Attention to Children and Seniors
Lastly, pay special attention to children and seniors using a bath or shower. They might not have the coordination and strength to safely use a bath on their own. In addition to adhesive bath mats, considering installing weight-bearing grab bars in and near the bath and shower. Giving youngsters and the elderly some extra support can help prevent a myriad of injuries.
Stay Safe and Share Patterson Legal Group's Bath Safety Month Tips
The team at Patterson Legal Group hopes that you use National Bath Safety Month to review your bathroom safety practices, reinforce what you already know, and share this safety information with your friends and family. A little bit of precaution during National Bath Safety Month goes a long way towards keeping you safe in the bathroom year-round.
Should you suffer an injury in the bathroom and suspect that it was due to negligence or a dangerous product, please contact us immediately. Our team is available 24/7 to assist you.
Consultations are free and we do not charge any fees unless your case is won. When you work with Patterson Legal Group, you can be assured of having a stalwart ally that will do everything possible to make sure that your case is won, so give us a call at 888-687-2400 today. You can also reach us through the Internet via encrypted contact form and LiveChat.
The information on this blog is for informational purposes only. It is not meant to serve as legal advice for an individual case or situation. This information is not intended to create an attorney-client relationship nor does viewing this material constitute an attorney-client relationship.