Kansas Bicycle Accident Lawyer
Injured? A bicycle accident lawyer can help.
A bicycle accident lawyer may be able to help you recover money damages for your injuries.  Nearly 300 Kansan cyclists are injured on bicycles each year.  Bicycle accident injuries range from minor scrapes and bruises, to serious lifelong injuries. Bicycle accidents with cars account for 1/3 of all bike accidents and result in an even higher frequency of severe injuries and death.  If you have been injured, contact a bicycle accident lawyer today for a free case evaluation.
Common bicycle injuries may be a result of:
Failure to yield by a motorist (21.7%) or bicyclist (16.8%);
A driver of a car unexpectedly turning into the path of a cyclist, most commonly making left turns in the path of a cyclist (12.1%);
Failure to yield the right-of-way at a residential location, a common injury to children (11.7%);
Motorists overtaking cyclists, frequently misjudging the space necessary to safely pass (8.6%); and
Bicyclists turning or merging into the path of a motorist unexpectedly (7.3%).
Other common injuries include backing out of a driveway, collision with a bicycle and a car door, running a stop sign, a driver under the influence of drugs or alcohol, or an inattentive driver.
RESOURCES AND EXPERIENCE GET RESULTS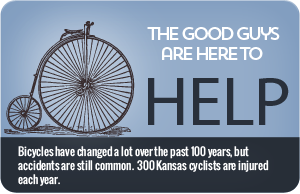 Every bicycle accident claim handled by Patterson Legal Group, L.C. is investigated by a bicycle accident lawyer and our experienced staff. We've spent years refining our case preparation techniques into an organized and efficient system we use with each client to ensure we deliver effective presentations on your behalf in negotiations, or in front of a judge or jury. Our track record of successful results includes multi-million dollar jury verdicts and settlements.
Are you not sure our firm is right for you? We encourage you to talk to other lawyers. We are confident you'll see the difference when you work with our team of lawyers experienced with bicycle accident cases and who care about our clients.
Act promptly and consult with a bicycle accident lawyer.
Accident scenes change quickly and the memory of witnesses soon fade.  The advantage goes to injury victims who act quickly. It may be necessary to preserve evidence. An experienced bicycle accident lawyer may arrange for your bicycle to be safely stored for later inspection by an expert, if there is a potential product defect or product liability claim.  A bicycle accident lawyer may also need to investigate the accident scene and interview eyewitnesses. Patterson Legal Group, L.C. has handled over 2,000 accident cases. Let us take care of your case, while you and your doctor focus on recovering from your bicycle accident.
Hiring Experts in Bicycle Accidents
There are a lot of factors that make a bicycle accident case complex and difficult to litigate. It is often appropriate to use expert witnesses whose knowledge and ability to communicate with a judge or jury about the design of a specific bicycle, or the manner in which your accident occurred, that may make a difference in the outcome of your case. Expert witnesses frequently testify about:
Road conditions;
The chain of events leading to your bicycle accident;
Factors that may have contributed to your accident, such as traffic signals, visibility or obstructions, and the speed at which the collision occurred;
Recreation of a bicycle accident scene; and
Mechanical failures.
Expert witnesses may also be helpful in evaluating and explaining your injuries. Severe injuries may change your quality of life or change your ability to complete tasks. Experts such as neurologists, surgeons, economists, life-case planners, are necessary where you or a loved one has been severely injured. You must choose a lawyer with enough resources to hire the necessary expert witnesses if you hop to obtain the maximum compensation for your injuries.
The bicycle accident lawyers at Patterson Legal Group, L.C. are prepared to help our clients realize the best possible outcome for the injuries they have sustained. Call us today at (888) 687-2400 for a free initial consultation.
Sources:
[1] Kansas Department of Transportation, Pedestrian; Pedalcyclist Accident Statistics, 2010.
[2] Dozza, Marco, and Julia Werneke. "Introducing naturalistic cycling data: What factors influence bicyclists' safety in the real world?" Transportation Research Part F: Traffic Psychology and Behaviour (2014).