Slip and Fall Prevention During National Safety Month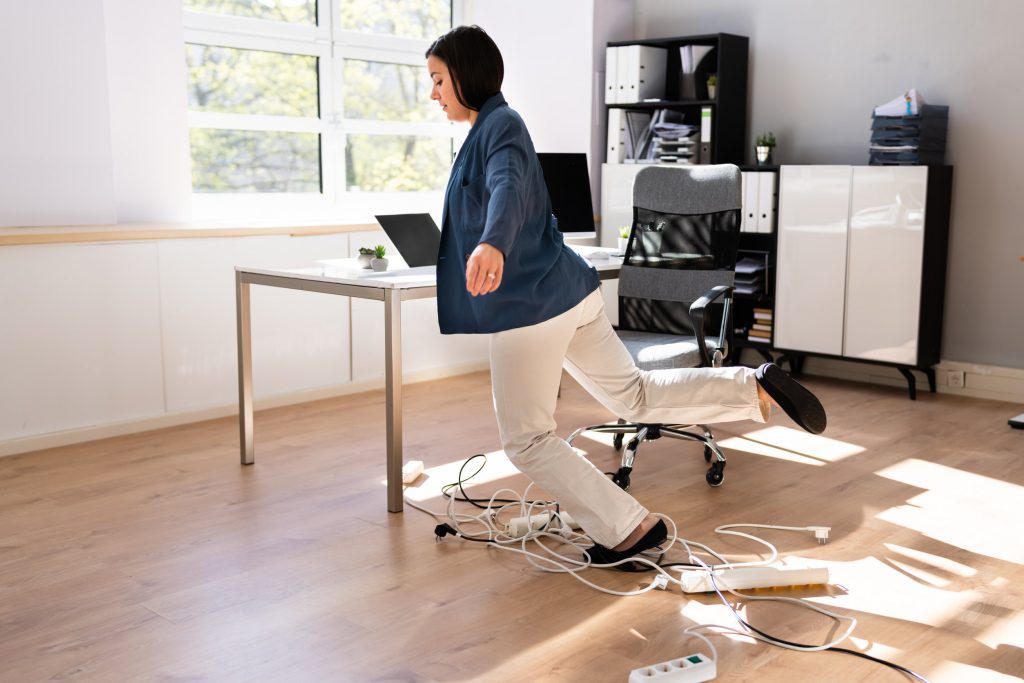 The National Safety Council (NSC) uses the month of June to promote National Safety Month. Every year, the organization highlights various safety issues to help people avoid personal injuries. One of the areas the NSC is highlighting in 2022 is slip and fall prevention.
The slip and fall lawyers at Patterson Legal Group applaud the NSC's efforts to raise awareness of fall injuries and would like to do their part to contribute. Below is information on how common slip and fall accidents are and how serious they can be. Additionally, we've compiled safety tips to help you and your family avoid fall injuries. Please share this information with your friends and family as part of National Safety month.
Quick Facts on Slip and Falls
Many people understand that simple slips happen every day, but many also underestimate the impact of fall injuries. To help you understand that slip and falls can lead to serious injuries, here are some quick facts.
According to The Centers For Disease Control and Prevention (CDC), fall injuries were responsible for more than 3,000,000 emergency room visits and 34,000 deaths of people 65 and older.
The NSC claimed that 42,114 people died in 2020 because of fall injuries. Additionally, 211,640 were injured badly enough to miss work and 805 died in workplace injury falls.
Stanford Children's Health claims that roughly 2,200,000 children under the age of 14 are treated at hospitals for fall injuries, while approximately 100 children die annually from slip and falls.
As you can see, slip and falls can be much more than just a simple knee scrape or leg bruise. Slips can lead to catastrophic injuries, brain injuries, and more. The good news is that the majority of fall injuries are preventable through simple safety measures.
Slip and Fall Prevention For Older People
Slip and fall accidents are common with older people since most people lose significant bone and muscle density after the age of 65. As a result, they lack stability and become susceptible to falling down. To help the elderly people in your household move about safely, the team Patterson Legal Group recommends:
Installing grab bars throughout the apartment or house for support
Inspecting canes, rollators, and walkers to make sure that they're stable
Checking with your doctor to see if any medication you take affects balance or vision
Making sure that your pathways are well lit
If possible, doing low-impact exercises to strengthen muscles and improve balance
Slip and Fall Prevention at Home
Home is a safe and comfortable place for many of us, but it's also the most common place for slip and fall injuries. According to the CDC, nearly 60% of fall injuries that require emergency room treatment occur at home. Doing the following will greatly reduce your chances of slipping at home:
Make sure pathways and stairs are free of clutter
Use non-slip mats in rooms with hard surfaces, paying special attention to bathrooms and the kitchen
Make sure that power cables and extensions cords are tucked away and not blocking pathways
Inspect handrails by the stairs to make sure they're in good condition
Keep frequently used items close by to avoid needless walks
Don't Forget the Pool
Summer is nearly here and many of you will be enjoying poolside fun. While swimming pools are outstanding for cooling off and relaxing, they can also be dangerous. Patterson Legal Group's swimming pool injury lawyers recommend the following slip and fall prevention measures:
Always have a sober adult supervising pool activity
Make sure that pool toys and flotation devices aren't blocking pathways
Check the pool deck or pathways around the pool to make sure they're safe
Make sure that the pool area has adequate lighting during night swimming
Contact a Slip and Fall Injury Lawyer
The staff at Patterson Legal Group hopes you have a better understanding of how serious slip and fall injuries can be. More importantly, our team hopes that this blog has given you a better understanding of the simple slip and fall prevention measures you can take that will greatly reduce your chances of an injury. Learning the best precautions and sharing them with your loved ones is what National Safety Month is all about.
Unfortunately, fall injuries can happen no matter how safe you're being. Should you or a family member suffer a slip and fall injury then contact Patterson Legal Group for immediate assistance. Our team is available 24 hours a day, 7 days a week to help you find the medical assistance you need and get started on a case that can make sure you get the highest compensation possible. Give us a call at 888-687-2400 or connect with us online through LiveChat.
Patterson Legal Group has decades of combined experience helping accident victims in Kansas, Missouri, Nebraska, and Wyoming. While our team is proud of the fantastic results we've gotten for our clients, we're equally proud to treat each client with the compassion and respect that they deserve. Contact us today and you'll quickly find out why Patterson Legal Group has become one of the most trusted personal injury law firms in the Midwest.
The information on this blog is for informational purposes only. It is not meant to serve as legal advice for an individual case or situation. This information is not intended to create an attorney-client relationship nor does viewing this material constitute an attorney-client relationship.