How to Prepare Your Car for Winter to Avoid Car Accidents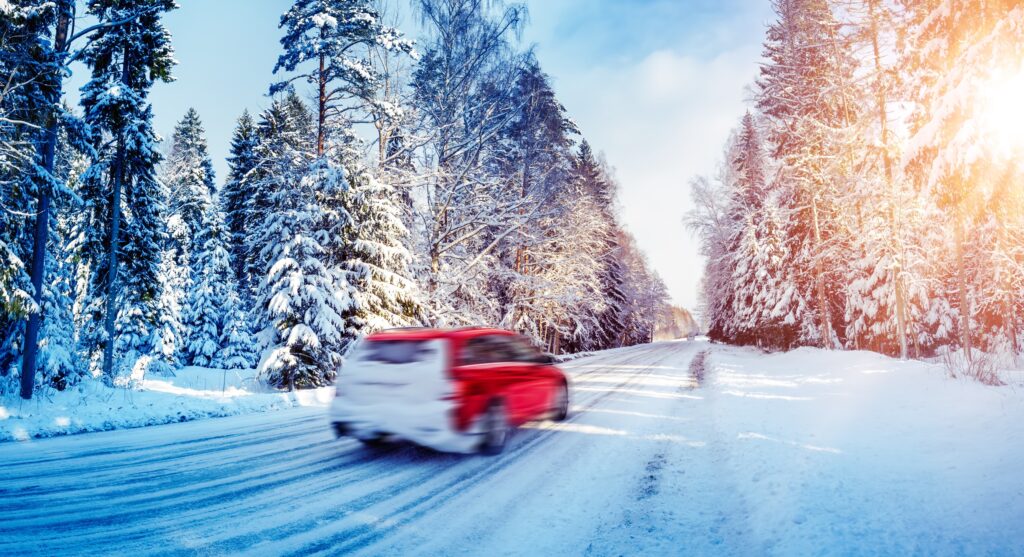 Winter will soon arrive in full force with subzero temperatures expected to hit Kansas and Missouri before Christmas. Many people consider winter to be the most dangerous season for driving. To help you and your passengers stay safe throughout the winter and avoid a car accident, the personal injury lawyers at Patterson Legal Group recommend the following steps to prepare your car for winter.
Five Ways to Prepare Your Car for Winter
Making sure that your car is ready for harsh winter weather is an important preventive measure. In addition to helping you avoid winter car accidents, you do not want your car to break down in subzero weather, leaving you and your passengers freezing on the side of the road. Our team has picked up some excellent tips from our clients that will help you stay safe during the winter.
Check Your Tire Pressure Biweekly
Our team recommends checking your tire pressure at least every other week. As temperatures drop, so does your tire pressure. In fact, tires can lose up to 2 pounds of pressure for every 10-degree drop in temperature. Considering that temperatures were still in the 70s in early November and are projected to hit dip below zero soon, your tires are likely underinflated.
When tire pressure drops below the manufacturer's recommended levels, performance drops. This means that your car can be harder to control. With ice and snow on the roads, being able to control your car is tremendously important. The good news is that it's easy to keep your tires in good shape. Most tire shops will check your air pressure for free and inflate as needed.
Don't Forget Your Tire Treads
While you're getting your tire pressure checked, the technician will likely check your tires' treads too. If not, make sure to ask them to do so. Making sure that your tires are in good condition is important year round, but especially during winter. Most manufacturers recommend replacing your tires when the treads hit 4/32".
Similar to air pressure, worn tires decrease your car's performance. Worn tires have a harder time gripping the road, which can be disastrous while driving in inclement weather. Additionally, worn tires are more likely to blow out or crack. A good way to avoid a weather-related accident is to make sure that your tires are in good shape.
Use Fresh Windshield Wipers for Optimal Visibility
Winter storms can limit your visibility while driving. Worn windshield wipers can limit your visibility further. During heavy snow storms, a fresh pair of windshield wipers can make the difference between staying safe and getting into a winter car accident. This is why our team recommends that you install a new pair of windshield wipers before winter arrives in full force.
In addition to helping keep you and your passengers safe, increased visibility can help keep other motorists safe. Additionally, new wipers can help you avoid causing a bicycle accident or pedestrian accident while driving around town.
Check All of Your Car's Fluids
Having your car's fluid levels checked to prepare your car for winter is a great idea. Traditional internal-combustion-engine vehicles have engine oil, coolant (antifreeze), power steering fluid, brake fluid, transmission fluid (for automatic transmission vehicles), and windshield washer fluid. Most auto shops will check your fluid levels for free and only charge you if fluids need replenishing or replacement.
Aside from windshield washer fluid, the other fluid types listed above are essential for operation. Should any of them be lacking or not be winterized then you could end up stranded on the side of the road. During harsh winter conditions, this could be disastrous.
Pack a Winter Car Accident Safety Kit
You should always have a safety kit in your car in case you or your passengers suffer an injury. However, the contents of the kit will vary depending on the season. Some of the basics will be the same, but you'll also have very different needs in the winter than your will in the summer. Patterson Legal Group recommends packing a winter car accident safety kit with the following:
First aid kit
Flashlight
Road flares
Ice scraper
Collapsible shovel
Cat litter
Non-perishable food
Bottled water
Jumper cables
Candles with matches or a lighter
Heavy blanket or sleeping bag
Power bank for your phone
While that list may seem long, the contents of the kit can make a tremendous difference in the event of a winter car accident. The items can be placed inside a medium-sized bag that fits neatly in your car's trunk or back seat. While our team hopes that you have a safe winter and won't need to make use of a safety kit, having one ready can be a lifesaver.
Contact Patterson Legal Group
The team at Patterson Legal Group hopes that you and your family stay safe this winter. Please use the safety tips above in order to prepare your car for winter and avoid a winter car accident. Please keep in mind that accidents can happen no matter how well you prepare. Should worse come to worse and you get into a winter car crash, please know that we are available 24 hours a day, 7 days a week to assist you.
You can reach Patterson Legal Group by phone at 888-687-2400. For your convenience, you can also reach us through the Internet using our LiveChat and online form options. Our injury lawyers have more than 75 years of combined experience successfully representing injury victims in Kansas, Missouri, and Oklahoma. Consultations are free and we work on a "no win, no fee" basis, so you won't pay a dime unless we've recovered money on your behalf. For top-notch legal representation backed by lauded customer service, give us a call today.
The information on this blog is for informational purposes only. It is not meant to serve as legal advice for an individual case or situation. This information is not intended to create an attorney-client relationship nor does viewing this material constitute an attorney-client relationship.