Holiday Injuries and How to Avoid Them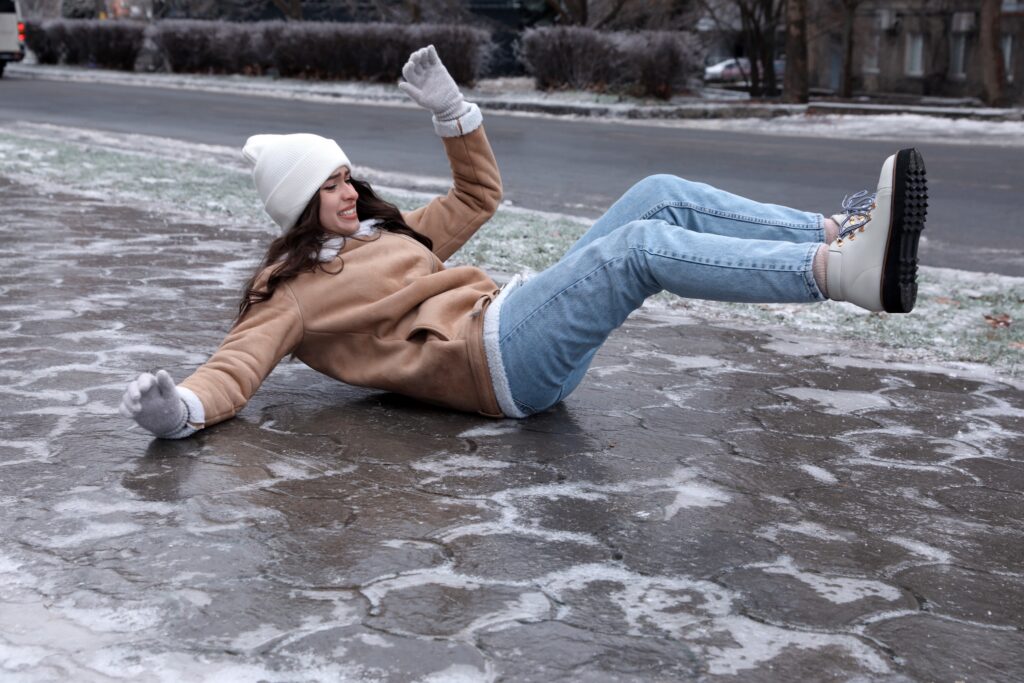 The holiday season instantly transports many of us to cherished memories with our family and friends. Sipping hot cocoa by a fire, decorating a freshly baked gingerbread house, and the unmistakable smell of a new Christmas tree are just some of the holiday memories people remember forever. For others, the season triggers flashbacks of horrible holiday injuries caused by accidents that they sustained.
From icy roads, slushy sidewalks, defective toys, and highly flammable products, the holiday season can be quite dangerous. To help you and your family stay safe this Winter, the personal injury lawyers at Patterson Legal Group offer the following information to help you understand common causes of holiday injuries.
Holiday Injury Stats
According to the U.S. Consumer Product Safety Commission (CPSC), more than 152,000 toy-related injuries occurred to children younger than 15 years of age, including 2 deaths, in 2021. The fatalities were due to children choking on small toy parts. The other injuries involved lacerations and contusions, and abrasions to the face and head of children.
The CPSC also reported that approximately 360,300 house fires occurred every year, during the holidays. The majority of home fires are caused by cooking accidents. In addition to burn injuries caused by improper oven and stove use, the growing popularity of turkey fryers has caused at least 222 burn/scald injuries since 1998. The holiday season introduces additional causes of house fires and burn injuries, including dry Christmas trees, burning candles, and broken holiday lights.
Tips to Avoid Holiday Injuries
While it's unfortunate that such a joyous season also increases your chances of different types of injuries, the good news is that many holiday injuries can be avoided by following some simple safety tips. The CPSC and Patterson Legal Group recommend the following:
Accidents Caused by Toys and Dangerous Products
Always buy from stores and online retailers that you know and trust
If the price of a toy or product is too good to be true, it could be a counterfeit toy or product
Look for certification marks on a toy or product that proves that the item was tested by an independent organization
House Fires
Unplug all holiday lights when you are not awake or at home
If you have a live Christmas tree, make sure the branches are not dried out and avoid placing the tree near a fireplace or radiator
If you're using an artificial tree, make sure that the label says that it's non-flammable
Never overload electrical circuits
Don't use old or damaged electronic decorations
Driving Accidents
Make sure that your tires treads are in good condition to avoid car accidents
Check your tire pressure regularly and inflate to optimal levels
Try to stick to major highways when traveling for the holidays
Try to drive around areas with accumulated snow and ice
Most importantly, don't drink and drive
Slip and Fall Accidents
Wear boots or shoes with slip-resistant soles to avoid slip and fall accidents
Try to stick to shoveled sidewalks
Use your arms for balance
Try to avoid carrying heavy objects with your arms and use a backpack or pushcart instead
Use handrails whenever possible
Contact Patterson Legal Group
Patterson Legal Group wishes you and your family a most wonderful holiday season. May your holidays be filled with amazing times with beloved family and friends. Above all, may your holidays be safe. Should you or a loved one suffer any holiday injuries, please know that our team is available to help you 24 hours a day, 7 days a week. Give us a call at (888) 687-2400. We're also available online through LiveChat and secure contact form.
Patterson Legal Group represents injury victims in Kansas, Missouri, Nebraska, and Wyoming. We offer free consultations and work on a "no win, no fee" basis. In addition to having a strong track record of winning top settlements for our clients, our staff takes great pride in treating every client with the compassion and respect they deserve. For an unbeatable blend of stellar legal representation and genuine customer care, contact Patterson Legal Group today.
The information on this blog is for informational purposes only. It is not meant to serve as legal advice for an individual case or situation. This information is not intended to create an attorney-client relationship nor does viewing this material constitute an attorney-client relationship.