Avoid a Winter Car Accident with These Safety Tips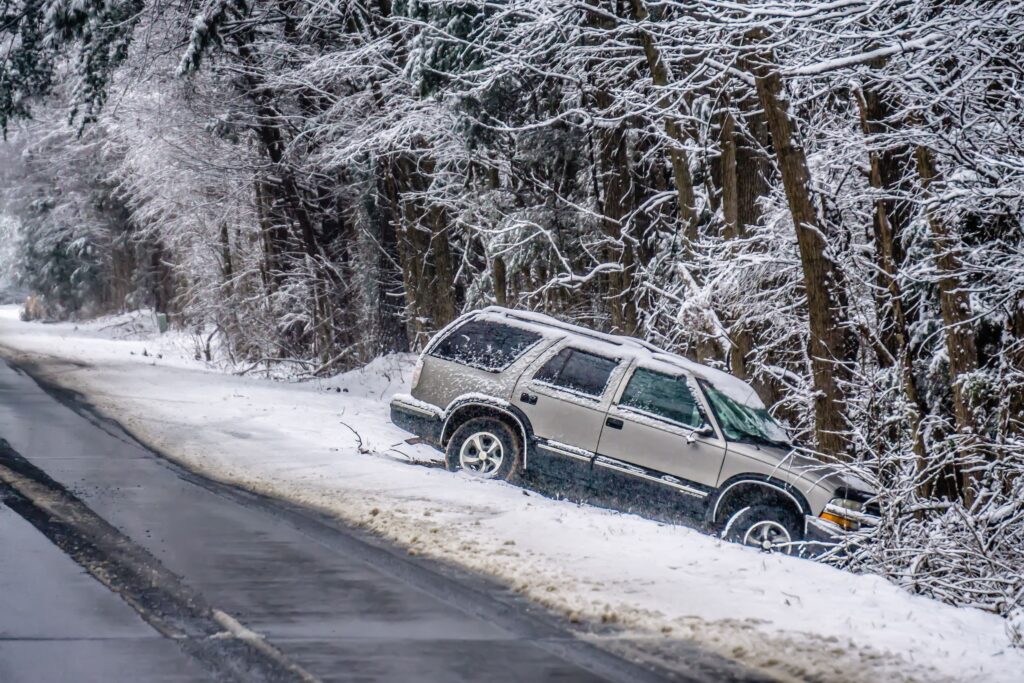 Winter is coming to the Midwest, with parts of Kansas and Missouri already receiving temperatures in the 20s. Even more frigid weather will be arriving soon, making this an ideal time to get your car ready for the season. There are many simple steps that you can take that will go a long way towards preventing a winter car accident. Patterson Legal Group is here with some valuable safety tips to keep you and your passengers safe this winter.
Pay Special Attention to Your Tires
As temperatures drop, so does the air pressure in your tires. Most tires lose approximately one pound of pressure per square inch (PSI) for every temperature decrease of 10 degrees. Making sure that your tires are inflated within the manufacturer's recommended range is essential to safe driving. If your tires are underinflated then your car will be less responsive and your braking distance will be longer.
Paying a visit to the local tire shop is important before winter is in full swing and a good idea several times during the season. Most tire shops will check air pressure and inflate your tires for free. They'll also inspect your tires' treads to make sure that they're at a safe level.
If you live in an area that's especially hit hard by snow then you should consider switching to winter tires. They are tackier than standard all-season tires, allowing for more grip and traction. Making sure that you have appropriate tires that are optimally inflated is easy to do and a huge help in preventing a winter car accident.
Pack a Winter Car Accident Safety Kit
You should always have a safety kit in your car in case you or your passengers suffer an injury. However, the contents of the kit will vary depending on the season. Some of the basics will be the same, but you'll also have very different needs in the winter than your will in the summer. Patterson Legal Group recommends packing a winter car accident safety kit with the following:
First aid kit

Flashlight

Road flares

Ice scraper

Collapsible shovel

Cat litter

Non-perishable food

Bottled water

Jumper cables

Candles with matches or a lighter

Heavy blanket or sleeping bag

Power bank for your phone
While that list may seem long, the contents of the kit can make a tremendous difference in the event of a winter car accident. The items can be placed inside a medium-sized bag that fits neatly in your car's trunk or back seat. While our team hopes that you have a safe winter and won't need to make use of a safety kit, having one ready can be a lifesaver.
Check All of Your Car's Fluids
Having your car's fluid levels checked before winter arrives in full force is a great idea. Traditional internal-combustion-engine vehicles have engine oil, coolant (antifreeze), power steering fluid, brake fluid, transmission fluid (for automatic transmission vehicles), and windshield washer fluid. Most auto shops will check you fluid levels for free and only charge you if fluids need replenishing or replacement.
Aside from windshield washer fluid, the other fluid types listed above are essential for operation. Should any of them be lacking or not be winterized then you could end up stranded on the side of the road. During harsh winter conditions, this could be disastrous.
Contact Patterson Legal Group if You've Been in a Winter Car Accident
Our team hopes that you follow the safety guidelines listed above. Taking the time to ensure that your vehicle is prepared for frigid weather and icy roads will help you avoid a winter car accident, as well as winter-specific injuries. That said, there are times when accidents happen no matter how many preventative measures you've taken. Should you or a loved one get into a car wreck, contact Patterson Legal Group immediately.
Our team is available 24/7 to help you in the event of an accident, even on holidays. We pride ourselves on having a team of skilled and compassionate legal professionals that have won the highest compensation possible for our clients. Consultations are free and we do not charge any fees unless your case is won, so don't hesitate to call us at 888-687-2400. For your convenience, you can also reach us through the Internet using our LiveChat and online form options.
The information on this blog is for informational purposes only. It is not meant to serve as legal advice for an individual case or situation. This information is not intended to create an attorney-client relationship nor does viewing this material constitute an attorney-client relationship.