Who Pays For An Ambulance After a Car Accident?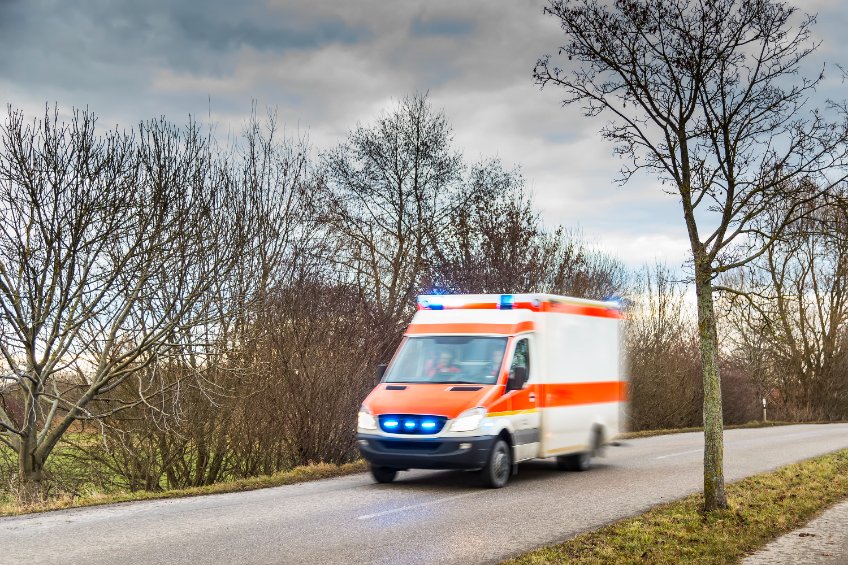 If you've been involved in a car accident, the last thing you want to worry about is medical bills, including who pays for the ambulance, if one is needed. The aftermath of a car accident, especially if there are injuries or significant property damage, is a stressful time. Luckily, the personal injury attorneys at Patterson Legal Group can help you navigate the aftermath of a car accident and help you deal with insurance companies to ensure you get the proper settlement. Here is what you can expect if you have to take an ambulance after a car accident.
At-Fault vs. No-Fault Insurance
Depending on where the car accident occurred will determine what your insurance will or will not cover. The type of insurance coverage you have, either fault or no-fault insurance liability, will also help determine this. Establishing fault in a car accident can be challenging and time-consuming, so no-fault insurance is much easier to handle. Luckily, Kansas is one of 12 states with no-fault automobile insurance liability.
No-fault coverage is a kind of auto insurance that pays accident-related costs for you, your passengers, and your car, regardless of who was at fault for the collision. When filing a claim with no-fault insurance, each driver files a claim with their insurance providers, each insurer works to establish fault. Any reimbursement is handled between the insurers, and then a settlement is paid.
No-fault insurance is sometimes also called personal injury protection insurance (PIP). This insurance pays for expenses incurred from an accident, but up to a certain amount. Expenses that might be covered include:
Health insurance
Medical expenses, including any ambulance fees
Further medical expenses after exceeding insurance limits
Lost wages
Funeral expenses for wrongful death
Child care, cleaning, and other essential tasks that cannot be completed due to injury
Drivers in states with at-fault insurance, like Missouri, are able to make claims with both their insurance provider and the insurance providers of other drivers involved in the accident. In states with at-fault auto insurance liability, you can file a personal injury lawsuit against the driver that caused the accident.
In at-fault states, the insurance of the driver who caused the accident is financially responsible for any costs, including medical bills, ambulance bills, property damage, etc. The insurance company of the individual at fault will pay for these costs up to the policy limits. If there are any costs after the policy limit has been met, the responsible driver covers the access.
Insurance firms frequently engage in extended back-and-forth arguments regarding fault. Often, these companies do not want to pay what is owed to their clients and struggle to determine fault. A personal injury attorney can help you navigate this process and help make sure that your insurance company doesn't shortchange you.
Is An Ambulance After a Car Accident Required?
If you've been in a car accident and have suffered severe injuries or are unconscious, you will most likely end up in an ambulance after a car accident. Emergency Medical Services (EMS) technicians may ask if you want to go to the hospital in an ambulance, if you are still conscious or not suffering from major, visible injuries.
You can decline an ambulance ride when one is offered. It is best, however, to go to the hospital and prioritize your health if you are hurt and unable to drive yourself.
The most frequent injuries suffered in a car accident are spinal and neck injuries. Often, these won't hurt right after the accident and can take years to appear. Seek medical attention if you suspect a neck and spinal injury or a whiplash injury.
Contact a Kansas Car Accident Attorney
If you've been injured in a crash and are stuck with a hefty bill for an ambulance after a car accident, the lawyers at Patterson Legal Group can help. We have experience handling insurance companies to get you the settlement you deserve.
We are available 24 hours a day, 7 days a week. You can call us (888) 687-2400, use our LiveChat feature, or complete our secure contact form. Patterson Legal Group offers free case consultation and works on a "no win, no fee" basis, which means that you don't pay any legal fees unless your case is won. Get in touch with us today to get started on your case.
The information on this blog is for informational purposes only. It is not meant to serve as legal advice for an individual case or situation. This information is not intended to create an attorney-client relationship nor does viewing this material constitute an attorney-client relationship.