News
Insurance Settlement Allows Accident Victim to Focus on Recovery and Healing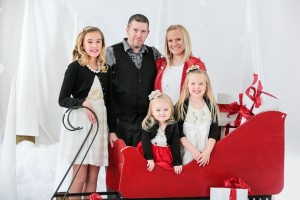 When Billy Weams headed out on July 28 to take his nephew back-to-school school shopping, he had no idea his world was about to dramatically change. With a wife (Nicole) and three young girls (Stella, 2, Chloe, 5, and Alexis, 10) at home, life was full and busy, and getting into a head-on collision was certainly not on Billy's agenda.
But that's exactly what happened when a wrong-way driver on U.S. 54 near Indianola Rd. (where speeds reach in excess of 65 mph) smashed into Billy's vehicle, leaving his nephew and him with major injuries.
"We're lucky to be alive, but we're still dealing with some of the pain. With these two pins in my knee, the cold weather is making it hard to walk."
One thing that wasn't hard for Billy was the decision to call Patterson Legal Group after his accident. His wife had seen an advertisement for the firm on TV, and made the call. Patterson Legal Group Attorney Carl Wagner handled Billy's case, while Attorney Gary Patterson worked with his nephew.
"Carl drove out to our house, which made it easier on us. He got all of our information and was out quite a few times until the case was settled. We were very pleased with his work."
With the holiday season upon us, Billy is very grateful for the additional resources the settlement provided for his family. While it couldn't ease the pain, it did ease the hassle. He's not sure what this past five months would have been like if he hadn't called Patterson Legal Group.
"Pursuing an insurance settlement with Patterson Legal Group has helped so much. It's allowed me to focus on healing and recovery instead of finances. If you're in an accident, you should definitely call. If you need an attorney, use Patterson Legal Group. They're very genuine people. Just straightforward and honest people."