How can Wichita car wreck lawyers help my claim?
Insurance companies often try to make even the smallest car wreck claims difficult. An insurance adjuster will work on your behalf, but they also represent the best interests of the insurance company. This conflict requires them to balance your interests and the interests of the insurance company. With one of our Wichita car wreck lawyers representing you, there is someone who is looking after your interests alone. This can help your car wreck claim because adjusters often limit the benefits you are entitled to without your knowledge. We offer a free consult if you have questions about whether representation will add value to your claim.
You may find insurance adjusters continuously calling you, or the opposite, difficult to reach. When you are faced with making legal decisions, it helps to have an adviser who is looking after only your interests, who can answer your questions and provide you with direction.
Every case our Wichita car wreck lawyers handle requires a different level of involvement which may include: interviewing witnesses, taking photographs of all injuries and property damages from the wreck. Some car wreck cases require reconstructing the wreck scene from skilled engineers and accident reconstruction experts. Our track record of successful results includes multi-million dollar jury verdicts and settlements.
How do you prepare a Wichita car accident claim?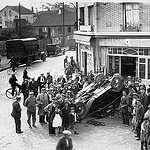 1. Lapparent, Matthieu. "Willingness to use safety belt and levels of injury in car accidents. Accident Analysis & Prevention, 40.3 (2008): 1023-1032.
2. Kleiven, S. (2007). Predictors for traumatic brain injuries evaluated through car wreck reconstructions. Stapp Car Crash Journal, 51, (2007): 81-114.
3. Photo by Harry White, from the collection at the Air & Space Museum Archives