Patterson Legal Group Gives Teens their First WSU Shocker Experience
The only thing better than attending a Wichita State Shocker basketball game is seeing it through the eyes of a first-timer. This week, we were delighted to donate seven tickets to one of our favorite local charities, the Wichita Children's Home. The six boys who attended the game also received dinner from Wichita Brewing Company.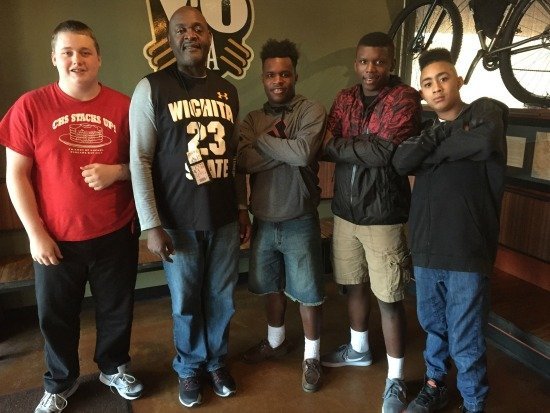 On Tuesday, February 15, rowdy fans gathered at the round house to watch Wichita State play new Mexico State…finally. The game was originally scheduled for December, but was cancelled due to bad weather. Ticket winners were accompanied by chaperone, Cliff Fanning, a former WSU football player who was on the team from 1972-1976. At dinner, we asked each of the boys why they were excited to see a Shocker game. Aside from watching the talented team play in person, there was another common theme in their answers – the cheerleaders!
Domanick,"I love Fred Van Vleet because he plays like a savage on the court." Treyvion is also a Fred fan. Keyshawn Likes it when the games get super intense, especially when the game is on the line. Dominique pays attention to the cheerleaders and dance squad. Mikey likes to watch WuShock, the WSU mascot do his thing. Jimmy, "I just love the cheerleaders."
The boys had a great time watching the Shockers dominate New Mexico State with a final score of 71-41. It was our pleasure to donate the tickets. We've partnered with the Wichita Children's Home on several occasions because we know what an incredible resource they are to Wichita families, especially the children. For one night, we wanted these six kids to forget about the stress in their lives and just have fun. The cheers and the smiles during the game said it all. We can't wait to do it again next year.
YOU COULD BE THE NEXT SHOCKER TICKET WINNER
Follow Patterson Legal Group on Facebook for more ticket giveaways!